Ek Tara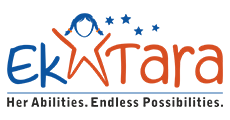 Ek Tara is a registered social development organisation, in Kolkata, working with poor marginalized, migrant families residing in deplorable living conditions, in one of the largest slums. They are trapped in a spiral of poverty and illiteracy. Ek Tara's aims at making a positive dent in the lives of the girl children living in the slums who are first-generation learners, by ensuring access to quality education and providing them with opportunities for holistic development.
What started as a creche grew into one of the most reputed ECLC and Primary school projects. The medium of instruction is English and the classes are equipped with digital learning tools and resources. Every year a number of children are mainstreamed into formal schools. The Education Program includes Bridge Course for out of school children and Coaching support for mainstreamed children, to prevent dropouts. The curriculum is just not restricted to academics. A wide range of extracurricular activities are provided to support their overall growth.
Ek Tara believes in giving choices to girl children, empowering them to chart their own future. The attempt is to understand every girl child within their context, recognize and unleash their unique potentials and hone their individual skills.
The education program is supported by projects covering Health, Hygiene, Nutrition and Community Engagement.