Towards a Universal Access for Vulnerable Girls and Boys to a Quality Primary Education
In developing countries, disability tends to be linked with poverty and hinders access to education. It is estimated that 90 per cent of children with disabilities (CwDs) are not schooled. According to UNICEF reporting being identified as disabled has a significant influence on the likelihood of education exclusion in West and Central Africa.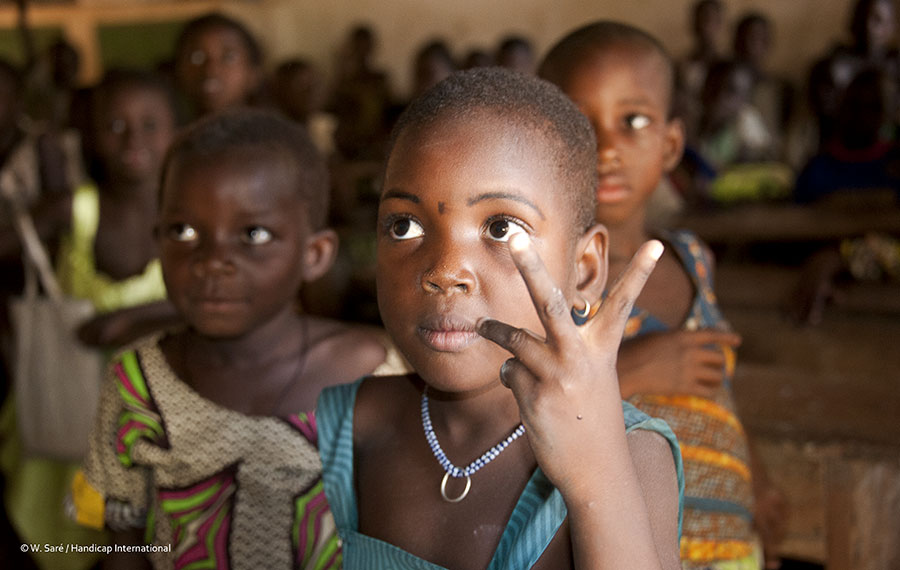 Handicap International (HI) will focus on the most marginalised children excluded from primary education. The 'Towards a Universal Access for Vulnerable Girls and Boys to a Quality Primary Education' initiative will employ a two-pronged approach to project interventions aiming to help OOSC overcome the obstacles to their schooling. The project will: 1) establish multi-sector care for targeted children via strengthened links between stakeholders associated with school (health, education, social, community and parents) and 2) create 'bridge' mechanisms that offer an education adapted to children's specific needs and support the children's inclusion in mainstream schools. Moreover, the project will build the capacities of key MOE staff to design inclusive education systems, make the current schooling models more inclusive and advocate to keep the issue of OOSC at the top of the regional agenda, especially in relation to CwDs.
The project's sustainability strategy comprises working through demand and supply-side dynamics. In that sense, the HI initiative seeks to stimulate demand for countries to achieve EFA targets and build their capacity to implement the appropriate policy changes at institutional levels. Regarding demand, HI will mobilise parents, civil society organisations and parent associations to promote inclusion of all children. As for supply, HI will work with multiple stakeholders to identify the most cost-effective means to achieve inclusion and engage in dialogue with communities and education authorities to find durable solutions. Furthermore, the sustainability and continuity of project interventions will rest on undertaking measures that develop the skills and capacity of NGO and institutional partners to conduct and coordinate inclusive educational actions.
* EAC would like to thank AFD for their generous co-financing contribution to this project.