Non-Formal Primary-Level Education to Forcibly Displaced Myanmar Citizens
BRAC, a Bangladesh-based organisation widely recognised for its ability to design, implement and scale comprehensive, community-based development programmes, is actively providing large-scale services to forcibly displaced 35,000 Myanmar nationals (FDMN) arriving in the country.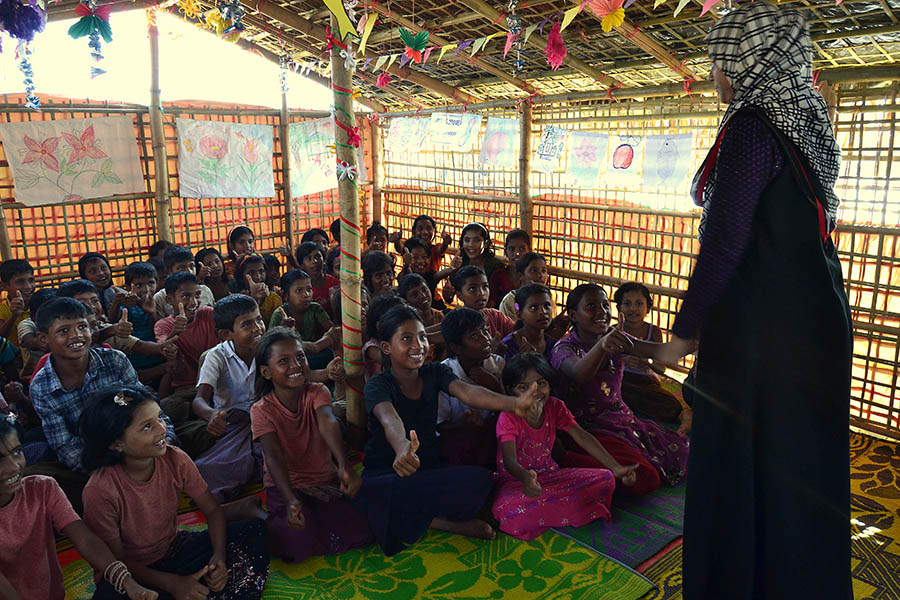 In partnership with EAC, BRAC seeks to expand its coverage and deepen its service offering, with a particular focus on women, children and vulnerable groups through the Non-Formal.
In many of the new spontaneous settlements where hundreds of thousands of people have settled, there are minimal or no schools. The refugee children have limited educational opportunities as they also face restrictions on their movements and cannot access schools outside the camps. At present, BRAC has established 200 Transitional Learning Centres (TLCs) offering non-formal basic education with over 18,000 children enrolled. Another 7,000 students have enrolled at the early learning level. To deliver education in the camps, BRAC has recruited 400 teachers and trained them on basic pedagogy using the teacher-training curriculum employed in their schools in Bangladesh.
Specific project strategy and activities comprise: 1) identifying sites for new learning centres; 2) recruiting and training teachers; 3) providing psycho-social support; and 4) community mobilisation. Furthermore, the project will seek to reach forcibly displaced Myanmar OOSC in nine refugee camps namely; Balukhali, Chakmarkul, Hakimpara, Jamtoli, Kutubpalong, Moynarghora, Shamiapur, Thakali and Unchiprang.