Channa's Disability Won't Stop Her Accessing Quality Schooling
In Cambodia, children with disabilities face social stigma. Many never make it to school. However, through a partnership between Education Above All Foundation (EAA) through its global programme of the Educate A Child (EAC), and Aide et Action (AEA), the Cambodian Consortium for Out of School Children project has created opportunities for these children and is now seeing them thrive.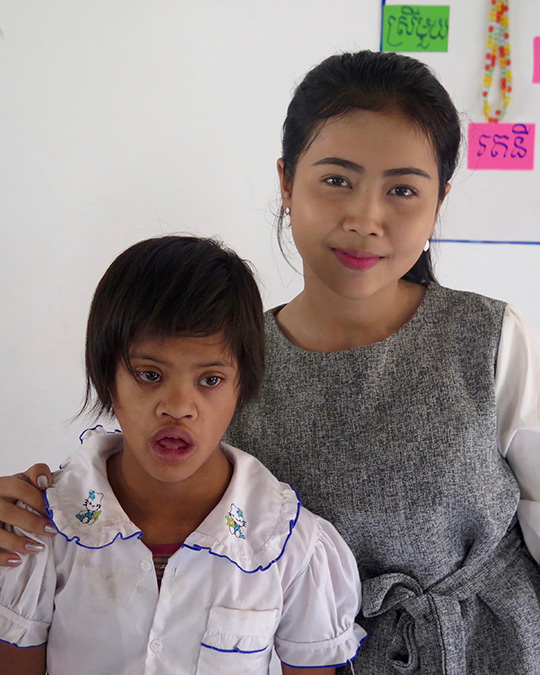 Channa*, a 12-year-old girl from Kandal province in south-eastern Cambodia, was born with a hole in her heart and Down's syndrome. At times, she can struggle with her speech because of her disabilities.
UNESCO reports that Cambodia is home to over 186,000 children whose access to education is blocked due to reasons beyond their control. These can include poverty, ethnic discrimination, geographic isolation, and physical disability. Children with disabilities are often ostracised and treated as though they are not worthy of an education.
Channa was abandoned by her parents as a baby. She was lucky enough to be adopted by another family in her village. Channa's adoptive mother assumed that because of her disability she could not enrol in school. But volunteers with the Rabbit School Organisation, an AEA consortium partner that provides education and therapeutic services to children with disabilities, intervened and spoke to Channa's family. They informed them that they could – and should – send Channa to school.
Channa entered school when she was ten. She now attends Ang Snuol Primary and Secondary School where she takes classes alongside other children with disabilities or learning difficulties. She is learning the alphabet and enjoys playing with other children and the teacher.
"It's important that she gets a chance to receive an education too," notes Vannara Sreymom, a teacher at Ang Snuol. Vannara says that although Channa has challenges, she is making progress and she's learning fast".
Thanks to this partnership between EAA and AEA, 59,592 out of school children in Cambodia have been able to access quality primary education. Together, EAA and AEA have helped some of the country's most disadvantaged children fulfil the promise of a better start in life, through education and the opportunities this affords.
* Name changed to protect identity.