Policy Paper 37 – What a Waste: Ensure Migrant and Refugees' Qualifications and Prior Learning are Recognized
In recent years, more people have been moving across borders, voluntarily or forcibly, in search of opportunities that range from better employment to safe haven from persecution and conflict. Education can be an asset for migrants and refugees, but its advantages cannot be realized if the learning and qualifications achieved before moving are not recognized elsewhere. So that migrants and refugees as well as destination countries can reap the full benefits of mobility, all the world's regions are taking steps to improve the process through which qualifications and prior learning are recognized, validated and accredited.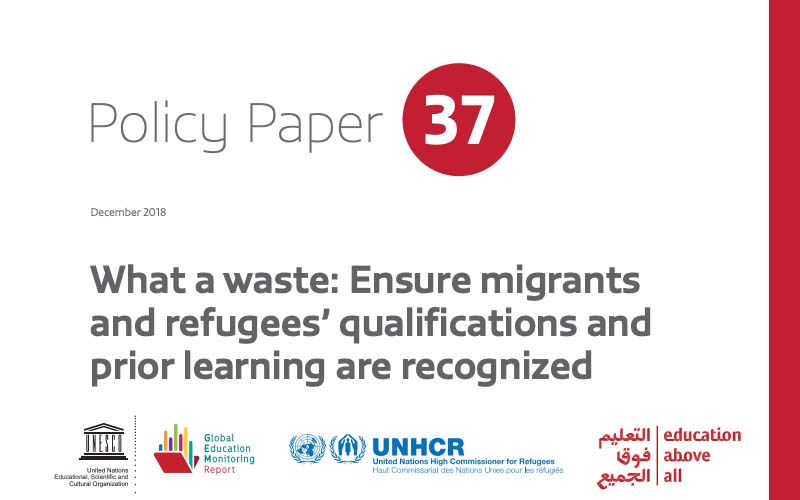 Migrants and refugees need their academic qualifications recognized so that they can find employment abroad that corresponds to their skills, continue learning at the right level, and ensure that any further qualifications earned are accepted when they return to their home country.
Recognition carries clear economic benefits for individuals. In Germany, four years after their arrival in the country, migrants with fully recognized qualifications were around 45 percentage points more likely to be employed and earned hourly wages around 40 per cent higher than immigrants without recognized qualifications. In Italy, results of a survey of 30,000 migrants with a foreign academic degree showed that qualification recognition substantially reduced unemployment. The benefits of recognition are not just economic; the recognition process itself can also potentially increase individuals' capacity to learn by building up their self‑esteem and confidence, encouraging them to engage in lifelong learning.
Please be advised that this document is available in English, French and Arabic.