Improving Access to Education for Conflict-Affected Children in Northeast Nigeria
EAC and the International Rescue Committee (IRC) have been working in partnership to increase access to quality primary education to out of school children (OOSC) in African countries since 2013. In Nigeria, EAC and IRC aim to reach an additional 20,000 OOSC in the northeastern region of the country.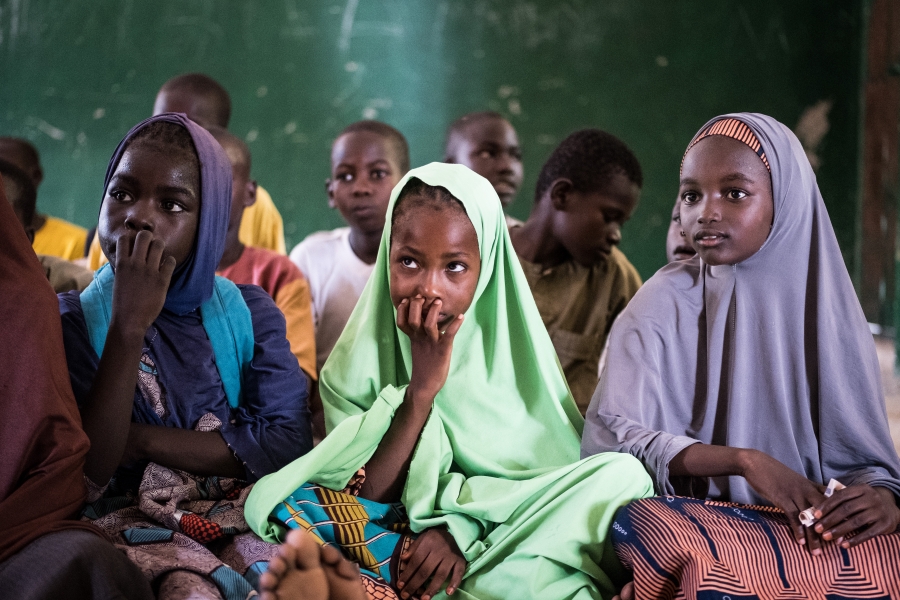 The International Rescue Committee's mission is to help people whose lives and livelihoods are shattered by conflict and disaster to survive, recover and gain control of their future. IRC first began working in Nigeria in 2012, providing assistance to over 800,000 people who lost their homes, in the wake of a devastating flood. In 2014 in the northeastern city of Yola, IRC provided water, food and emergency shelter; health and nutrition services, informal education and protection services for tens of thousands of people affected by conflict. At present, IRC has offices on the ground in the country's states of Adamawa (Yola and Mubi) and Borno (Maiduguri). 
The overall goal of the joint EAC/IRC "Improving Access to Education for Conflict-Affected Children in Northeast Nigeria" project is for out of school children affected by insecurity, displacement and poverty in conflict-affected regions to enrol in and attend safe, functioning and responsive non-formal learning centres (NFLCs) and formal schools. This project aims to increase the enrolment and attendance rates of students from refugee, returnee, IDP and other vulnerable OOSC populations by ensuring:
NFLCs are available, accessible, safe, functioning and responsive;
Routes to schools or NFLCs are safe; and
Parents and caregivers are informed, motivated and can afford to send their children to school or NFLCs regularly.
Given the magnitude of the destruction and abandonment of schools, this initiative will concentrate on providing non-formal education (NFE) to OOSC who will ultimately transition to formal schools. In addition, the project will support OOSC who have dropped out to return to education.
For more information about this EAC Implementing Partner, please visit the IRC website.