Innovative Financial Services for Education
The current mandate of Educate A Child (EAC) is to support out of school children (OOSC) at the primary level in accessing, participating in and completing a quality primary education.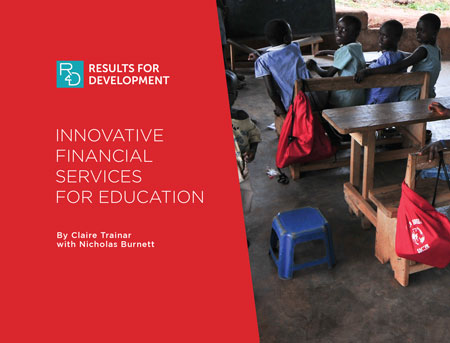 Through working with EAC partners in 38 countries it is evident that the cost of education is one of the major barriers to a quality education that learners, parents, and providers face, regardless of the level of education. Education costs are manifest at a wide range of input points. These points vary from parents and communities to private providers, to governments.
Putting aside the debate on private vs. public provision, which is an important debate in its own right, EAC wanted to understand better some of the opportunities in and constraints to providing financial services for education, particularly in relation to providers that supplement or complement public education. Our partner Results for Development (R4D) willingly took on this challenge. The publication addresses access to financial services by both the users and the providers of education. It also considers linkages between the public and non-public sectors in relation to financial services.
The findings of this research are both encouraging and discouraging. There are several innovate approaches available, some of which show potential. Unfortunately, few have been adapted sufficiently to make a significant difference at the primary level.
We hope that the findings and analysis contained in this publication encourage serious consideration of alternative ways to provide financial services for education—especially to those who are most disadvantaged and seeking education at the primary level.